We supply a product that are designed to integrate seamlessly with the whole range of Electrical Submersible Pumps (ESP) operations. From RMSpumptools we supply our customers with the most extensive range of integrated products. The tools and systems we provide have evolved from a deep, practical knowledge of every aspect of the artificial lift.
1- Electrical Penetrators and Connector systems.
Wellhead Penetrators, Packer Penetrators, CAN/POD Penetrators, Penetrator Feedthru Systems, Mechanical Splices, Adjustable Adapters, Field Attachable or Moulded Cable options.
(Safety. Durability. Reliability)
Field-proven in the harshest environments, RMSpumptools suite of Electrical Penetrators and Connector Systems is established as the industry preference for reliability. RMS products are tested and certified to the highest standards including FM, ATEX and IECEx to name but a few.
Wellhead Penetrators & Connector System
Wellhead Penetrators and Connector Systems can be manufactured for any wellhead configuration and well condition. Our entire range of Wellhead Connectors include the unique RMSpumptools gas-proof pressure barrier, providing you with the safest, most reliable Wellhead System in the market.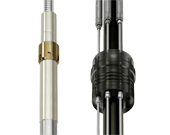 Packer Penetrators & Feedthru Systems
Packer Penetrators and Feedthru Systems also contain our field-proven gas-tight and permanently energised pressure barriers and can either be manufactured directly onto the MLE or utilise a Field Attachable connection. The design of our single mandrel has also been modified to offer a suite of POD Penetrators in a new slimline model - The STEALTH Penetrator™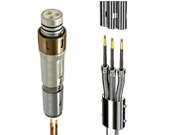 Field Attachable for Wellhead & Packer Penetrators
SPEEDFiT is the new benchmark for high-speed, consistently reliable field attachable installations of downhole cable to wellhead and packer penetrators - saving you even more rig time. Requiring minimal parts and training, only a cable prep is required - SPEEDFiT requires no tapes, no epoxy, no gel and no assembly of parts.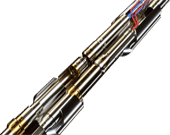 The SWITCH® is a world first in artificial lift innovation - this patented product is fully qualified and delivers significant reductions in operating and capital costs, planning and lost production time. Workovers become less of a risk with minimum impact on downtime - when your pump fails, simply engage The SWITCH and production continues.
2- ESP Completion Systems & Mechanical Products.
(Maximising Production)
The RMSpumptools suite of Mechanical Products and Systems have been specifically designed to offer the widest range of configurations to maximise production from your application whilst facilitating smooth well intervention.
Our comprehensive range of Tubing String products and accessories not only enhance the functionality of our Multiple ESP Systems, but also stand alone and extend the life of an ESP – allowing for more efficient operations.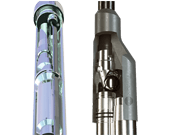 ESP Dual & Bypass Systems
MSpumptools world renowned Y-Tool (ESP Bypass System) represents design at its functional best, providing a means of allowing well intervention below an ESP using wireline or coiled tubing. As a flow bypass, the Y-Tool is also used to form the basis of the popular dual ESP system. It comes with a comprehensive range of associated and compatible products and a complete package of accessories.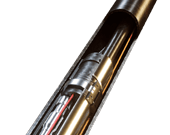 A pressure-retaining shroud encapsulating an ESP (sometimes called a POD or a CAN), with a flow intake via a lower tailpipe/stinger to engage in a permanent packer with PBR receptacle. The encapsulation provides a reliable low-cost second barrier to well fluids. The system can also be utilised in a dual ESP system where wireline access below the ESP is not required.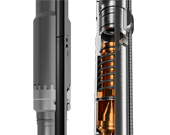 RMSpumptools offer tubing tools and accessories that not only enhance the functionality of our Multiple ESP systems, but also to stand alone and extend the life of an ESP or to allow for more efficient operations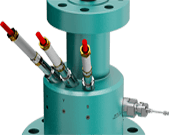 Thru-Tubing ESP Deployment
RMSpumptools pioneered the concept of the automatic dual ESP system which has been a major success world-wide. A simple arrangement of two ESPs in the same well delivers a complete downhole system booster or back up. Downtime is minimal, workovers cost less, and there are savings in other operational areas.
3- Subsea Connectors and Systems – Wet-Mate & Dry-Mate.
(Subsea Connector & Sensor Systems)
Tested at our dedicated facility in the UK and field-proven in the harshest environments, our suite of Subsea Wet and Dry Mate Connector Systems is established as the industry preference for durability, reliability and longevity.
HP/HT connector systems is one of the industry's greatest challenges and in our continuous drive for innovative technology, we are developing a new generation of products to operate in extremely hostile environments.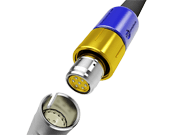 Monitoring & Control Connectors
SeaConnect™ Monitoring & Control Connector Systems provide continuous electrical connection for subsea data acquisition devices. The connectors are available in 4/7/12 Pin configurations. ROV, Stab and Diver Wet-Mate options are supplied with oil filled Jumper Hoses or Cable Harness Assemblies.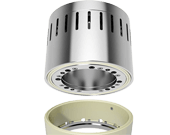 Tree & Tubing Hanger Instrument Connectors
WellConnect™ instrumentation connector systems provide a long-term reliable electrical connection between the Tubing Hanger and the Subsea Tree. The electrical connection feed through system consists of Penetrators and Wet & Dry mate Connectors. The systems are also used for tubing hanger running tools providing gauge verification before the subsea tree and tubing hanger are engaged.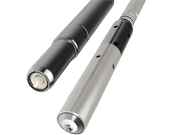 Tree, Tubing Hanger & Downhole Power Connectors
WellPower High Voltage Connector Systems consist of either a three phase Single Mandrel Wet-Mate Connector or three single phases for a downhole or subsea structure - providing a long term reliable connection in power application environments
Renewable Connector Systems
OceanPower™ is a range of high and medium power Wet-Mate Connectors specifically developed for the Renewables Energy Market. The connectors utilise proven technology in the marine environment providing superior reliability and ease of system operations during installation, bringing many benefits to tidal stream and wave energy devices - providing innovation to some of the industry's major challenges.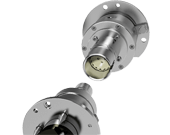 Temperature & Pressure Sensors perform measurements on completion and production systems in subsea environments to a water depth of 3,000m and are typically used for Subsea Christmas Trees. Subsea Valve Position Sensors provide the exact position of the subsea valve. These Sensors can be used on a variety of valve applications including Choke and HIPPS
4-Artificial Lift Monitoring – ESP Gauges/Sensors.
(Robust. Reliable. Accurate)
ESP Gauges/Sensors – field-proven systems with superior reliability, providing greater protection to help you extend the life of your ESP system.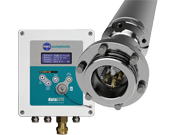 RMS ESP Sensors have been developed with the stresses associated with downhole ESPs in mind. The inclusion of key features such as Advanced Motor Temperature Monitoring, 3-Axis Vibration Measurements and Over-Temperature Capability ensures optimal Protection, Performance and Production.
The high specification TransCVR range of surface display units transmit and display the information that is necessary to obtain an accurate understanding of your ESP and Well